In recent years, renewable energy has become the leading direction and concerted action of the global energy revolution and the response to climate change. PV, as an important renewable energy generation technology, is developing rapidly, becoming a clean, low-carbon and price competitive form of energy.

With the large-scale expansion of PV power stations, land resources for the construction of high-quality power stations are scarce. In order to continuously improve the comprehensive income of power stations, PV power stations tend to be integrated with the primary industry. For example, soilless planting plants, agricultural science and technology greenhouses, abandoned mining areas, and water treatment municipal facilities are used to realize comprehensive applications, effectively reducing carbon emissions in the realization of industrialization and land efficient output.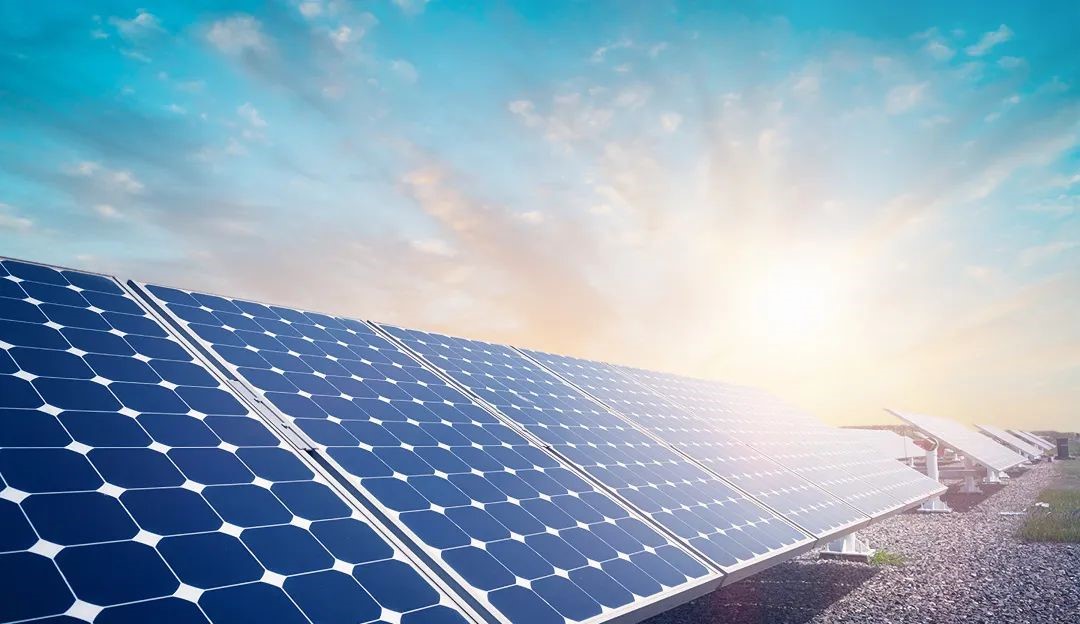 I. Trend of PV system
At present, PV system is mainly divided into centralized inverter, series inverter and micro inverter. Centralized inverter is a large-scale and super-power PV inverter, mainly used in large industrial and commercial power generation systems; Series inverter is the most commonly used inverter for domestic and commercial solar energy systems, featuring low cost, flexible design and high efficiency.
However, with the continuous development of PV technology, micro inverters can now achieve 3000 or even 5000 watts of power; with the reduction of IC cost, micro inverters can replace low-power series inverters, and eliminate the potential safety hazards of high-voltage series inverters.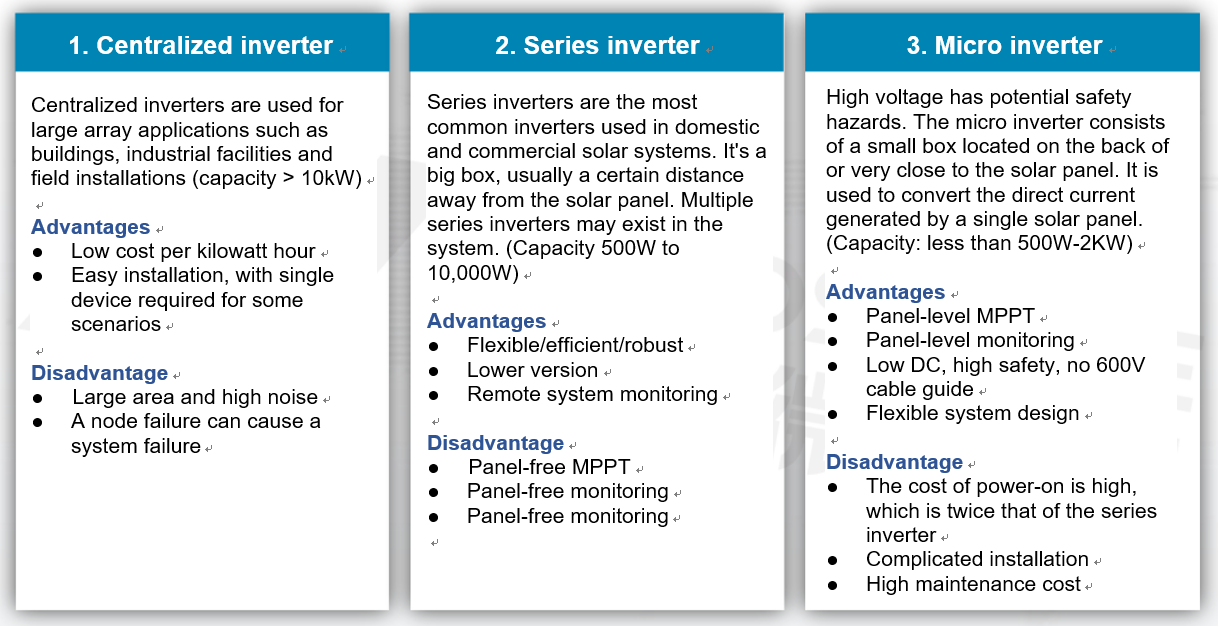 PV system classification
II. Application of analog chips in PV system
With the development of PV core devices towards high efficiency, low energy consumption and low cost, analog technology and chips are playing an increasingly important role in optimizing and improving the intelligent level of PV power generation technology.
In the PV inverter, a large number of analog chips will be used in the driver circuit of power semiconductor, the sampling circuit of bus voltage/current/temperature detection, the over-current protection circuit, the communication circuit inside and outside the system, as well as the power supply and MCU power monitoring circuit.
III. NOVOSENSE PV inverter solution
NOVOSENSE solutions for PV inverters mainly include isolation ICs and other analog ICs. Isolation ICs include driver, sampling, digital isolator and isolation interface; Other analog ICs include operational amplifier, power supplies (flyback /DC-DC/LDO), buffers, etc.
1. Long development in isolation chip technology with four characteristic isolation products
An inverter needs about 25 isolation chips on average, which are mainly used in the low-voltage and high-voltage parts of PV inverters to meet the requirements of system safety and safety regulations. NOVOSENSE isolation chip is based on the volume isolation technology route. Compared with traditional optical and magnetic coupler, it has higher voltage resistance, faster transmission speed, wider temperature range and longer working life. In terms of signal modulation mode, NOVOSENSE adopts Adaptive OOK® coding technology to further improve the ability of isolation devices to resist common-mode noise.
NOVOSENSE has been long engaged in isolation chip technology, and can provide a wide range of isolation products, including digital isolator, isolation driver, isolation sampling and isolation interface. These products are suitable for all kinds of inverters, and have entered the supply chain system of top customers in the PV industry.
● Isolation driver chip NSi6801, NSi6601: powerful driving capability, high common mode transient immunity (CMTI), low delay

● Isolated sampling chips NSi1311, NSi1300 and NSM2013: High sampling accuracy, excellent isolation performance
● Digital isolator NSi82x: High cost performance, rich product types
● Isolation interfaces NSi8308x and NSi1050: High integration and EMC performance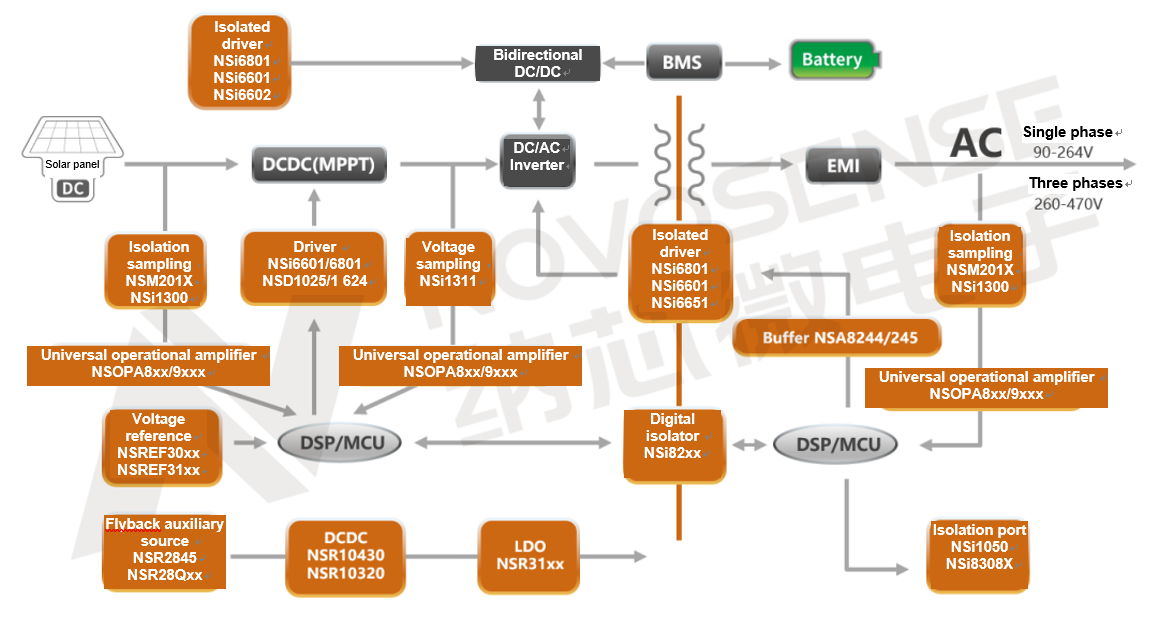 NOVOSENSE solutions for PV inverters
As shown in the figure above, the block diagram contains two parts: inverter and energy storage. The main circuit of the inverter is from solar panel DC/DC to inverter DC/AC, and finally output alternating current to the power grid. The circuit in the upper part of the figure is the energy storage part, which charges the battery through the bidirectional DC/DC. The battery can discharge through the bidirectional DC/DC, and then output alternating current to the power grid through the inverter circuit DC/AC.
The DC/AC or DC/DC part of the above system is realized through the power device and the driver circuit, which uses the power device, such as MOSFET, silicon carbide (SiC) or IGBT, and the main scheme of the drive circuit is to use the isolation driver IC. NOVOSENSE single valve isolation driver NSi6601 with Miller clamp features, opto-compatible input single valve drive NSi6801 and isolated half-bridge driver NSi6602 are widely used in these systems and have been in mass production for PV top-tier customers.
The NSi6801 is a high-reliability E-Diode input single channel isolation grid driver that is VDE enhanced isolation safety certified with up to 35V power supply on the driver side and available in 9V/13V UVLO versions. It has 5A peak Source/Sink output current, high CMTI (±150kV/us) characteristics, typical propagation delay of 75ns, maximum pulse width distortion of 35ns, and operating ambient temperature of -40℃ to 125℃. It can be widely used in DC-AC solar inverters, UPS and battery chargers as well as isolation DC/DC and AC/DC power supplies.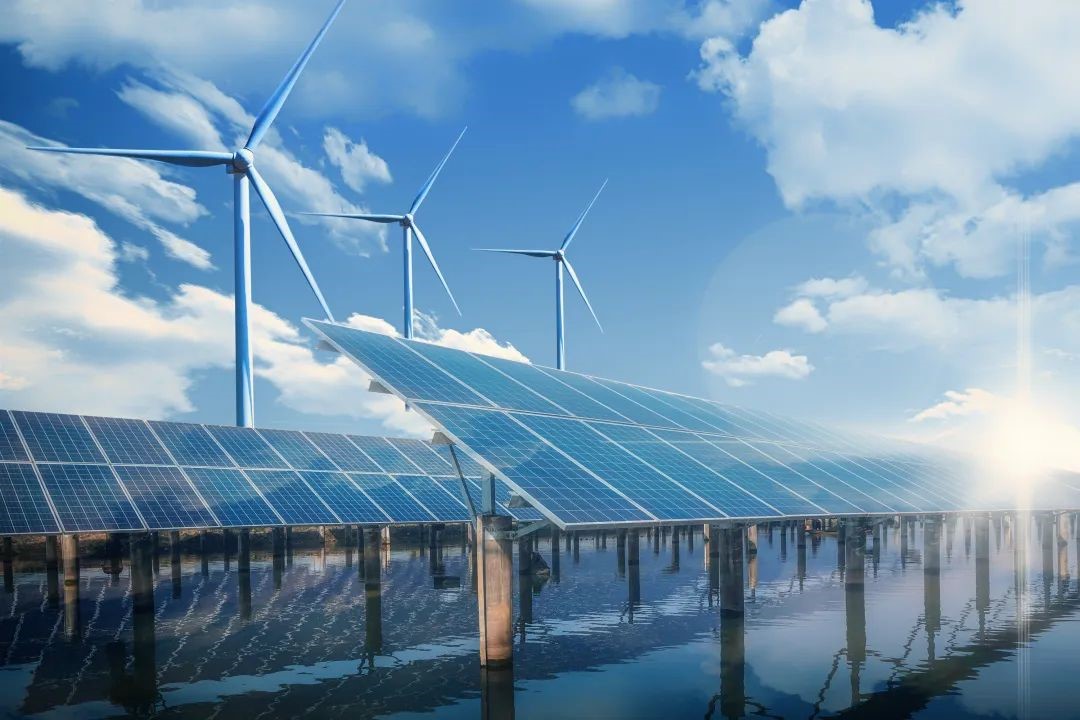 2. Other high performance products available
With the development of optical storage integrated machine and micro inverter, the number of chips needed by the system is increasing. In addition to the isolation products mentioned above, NOVOSENSE also has other categories of products available to customers.
Typical products worth mentioning include the 15mm creepage range multichannel digital isolator NSi822x/3x/4x DSWWR, Vref output integrated current sensor NSM2013, integrated current sensor NSM2015 with reference/fault output, 40V/5MHz/ low offset /RRIO amplifier NSOPA9051/9052/9054, and high-performance current mode PWM controller NSR284x. These products are representative of the complete NOVOSENSE solutions, which can provide customers with a complete analog IC solution for optical storage systems.
Sample application
Samples of the above products are available. If you need to apply for samples or order products, you can call 0086-0512-62601802, or email to sales@novosns.com. For more information, please click www.novosns.com.