As integrated thermal management technology continues its relentless evolution, the quest for enhanced model selection and the platformization of electronic valves and pump components has ushered in an era of single-chip integrated micro&special motor driver System-on-Chips (SoCs). This innovative solution takes the original components, including the MCU, power supply, MOS drive, and LIN communication module, and amalgamates them into a single cohesive package. This integration not only simplifies peripheral circuits but also significantly reduces the need for additional peripheral devices. Furthermore, it fosters standardization of interfaces and control algorithms while simultaneously slashing system costs and elevating reliability to new heights.
NOVOSENSE NSUC1610 integrates a Cortex M3 processor, power MOSFET and DAC. It supports a 4-wire LIN bus and dual-channel temperature sensor which can be used for power-side over temperature shutdown and low-voltage-side temperature detection inside the chip.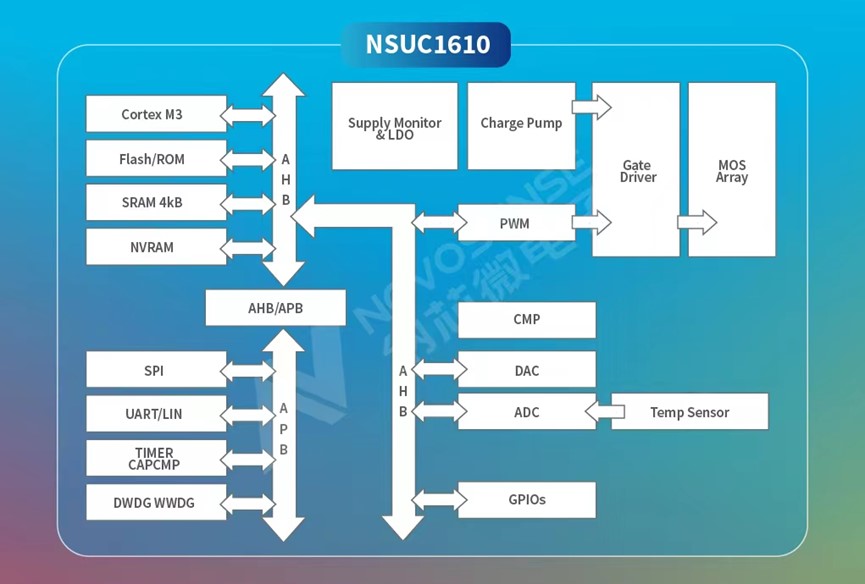 NOVOSENSE NSUC1610 Framework Diagram

This highly integrated product NSUC1610 can be used to design small-sized, low power, high-efficiency motor intelligent actuator applications for automotive, include but are not limited to electronic water valves in thermal management systems, air conditioning electronic vents, active air intake grille system actuators (AGS/AGM), seat ventilation brushless direct current motor (BLDC) drives, with light steering headlights (AFS), rotating/lifting large screen control, automatic charging port, automatic door handle and more.