The new NSM2015 / NSM2016 Hall-effect current sensor chip launched by NOVOSENSE is a fully integrated high isolation current sensor solution with extremely low primary side conduction resistance, which can provide sufficient accurate current measurement without the need for external isolation components. It is widely used in automotive, industrial, commercial and communication systems for AC or DC current detection.
With its breakthrough isolation technology and signal conditioning design, NOVOSENSE can provide up to 5000 Vrms of electrical isolation capability in demanding automotive and industrial applications, while ensuring excellent magnetic coupling between primary and secondary edges. It adopts differential Hall detection to resist the interference of external stray magnetic field.

- Support 3.3V/5V supply voltage
- Meet UL high isolation level
- High bandwidth, high precision
- DC/AC current detection, with optional multi-level range of 5A-100A
- Overcurrent protection output with user-configurablethreshold

High integration and high stability

NSM2015 / NSM2016 series adopts fixed output mode, the output voltage remains unchanged within a certain range of supply voltage, and does not fluctuate with the fluctuation of supply voltage. It eliminates the dependence on high-precision voltage regulator systematically, thus making the system BOM simpler and more cost-effective. Meanwhile, NSM2015 has a pseudo-difference output mode to provide reference voltage output. NOVOSENSE's new chopper and rotating current excitation technology make zero-point temperature drift smaller. Thanks to the precise internal temperature compensation algorithm and off-line precision calibration, the NSM2015 / NSM2016 series current sensors can maintain high accuracy in the full operating temperature range, eliminating the need for secondary programming.

High isolation rating and fast overcurrent protection

The NSM2015 / NSM2016 series also features fast overcurrent protection output with a typical response time of 1.5 us. This fast overcurrent output provides an easy way to detect overload, short circuit events and prevent damage to power tubes in inverters, motors, or other applications. The overcurrent protection threshold can be set to 75% to 200% of the full current.

The NSM2015 offers a wide-body SOIC16W package with a pressure isolation capacity of 5,000 Vrms and a maximum operating pressure isolation capacity of 1550Vpk and 10,97Vrms.The NSM2016 is available in SOIC8 package with a isolation withstand voltage capacity of 3,000 Vrms, and max. working isolation withstand voltage of up to 600Vpk and 424Vrms.Each package offers a different current range, with the SOIC16W package supporting up to 100A and the SOIC8 package supporting up to 65A.

Compact package to reduce the cost of the scheme

The NSM2015 / NSM2016 series is designed to replace shunt resistors, operational amplifiers, current transformers, and voltage isolators in applications that require small, single-chip sensor solutions. These fully integrated compact packages effectively reduce footprint on the board and the overall cost of current detection solutions. The sensor supports 3.3V/5V supply voltage (different supply versions).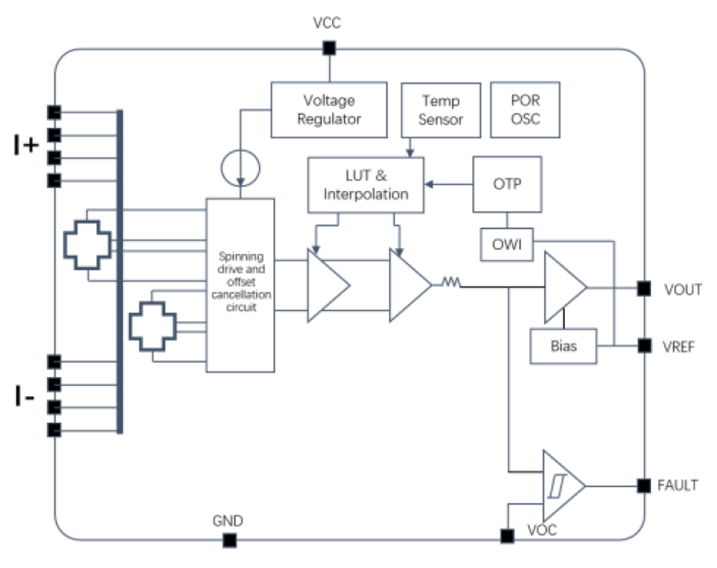 NSM2015 functional block diagram

NSM2016 functional block diagram