September 6-7, 2022 – The Fourth Global New Energy and Intelligent Vehicle Supply Chain Innovation Conference, co-sponsored by China EV 100 and Nanjing Jiangning Economic and Technological Development Zone, was held in Nanjing. With the theme of "Reshaping the core automotive supply chain", the conference focused on "establishing a safe and reliable automotive chip industry chain", and launched in-depth communication and discussion on solving the problems of automotive chip industry chain. Wang Shengyang, founder, chairman and CEO of NOVOSENSE Microelectronics, was invited to attend the forum and deliver a keynote speech.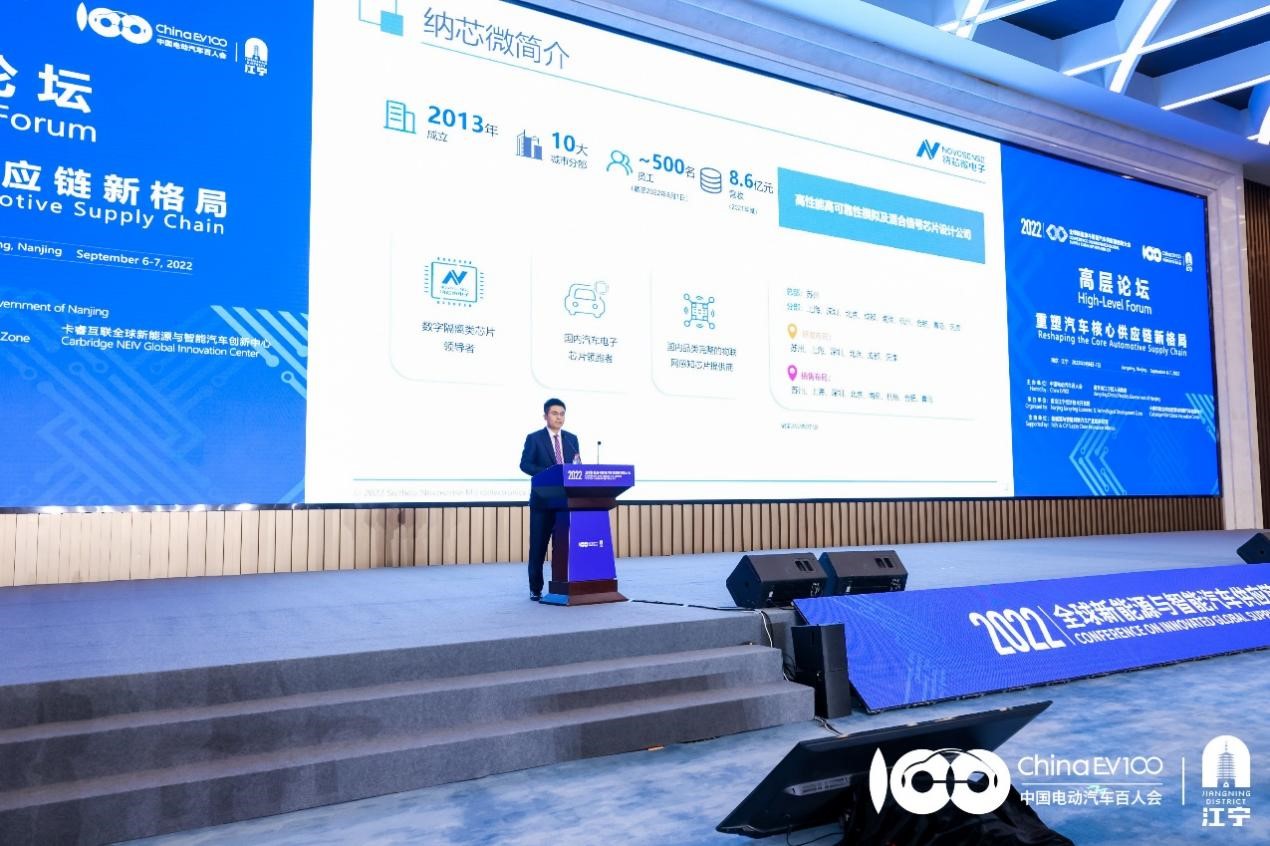 Wang Shengyang from NOVOSENSE attended the conference and delivered a speech

In the context of global automotive supply chain remodeling, the original international division of labor and supply chain system of the automotive industry are affected, and the shortage of core components such as chips is still prominent, which brings severe challenges to the security and stability of the global automotive industry chain and supply chain. In addition, the rapid development of new energy vehicles driven by "carbon peaking and carbon neutrality" target not only pushes forward the new reform of the automobile supply chain system, but also provides rare historical opportunities for China's automobile parts industry. With the demand of "supply guarantee" and "stable supply", enterprises in the upstream and downstream of China's automobile industry chain deeply realize the importance of independent and controllable supply chain.
This conference focuses on the problem of automotive chip and intelligent supply chain reconstruction to find and discuss China's countermeasures and answers in respect of the international industrial chain system remodeling, domestic supply chain transformation and upgrading. The conference was attended by Miao Wei, deputy director of the Committee of Economy of the CPPCC National Committee, Dong Yang, vice chairman of China EV 100, Zhang Yongwei, vice chairman and secretary general of China EV 100, and representatives from domestic and foreign well-known car factories, parts suppliers, institutions and consulting companies, including China Automotive Technology & Research Center, BYD, NIO, Changan, Chery, JAC, JIDU, Mercedes-Benz, Jaguar Land Rover, Bosch, Valeo, Desay SV, SVOLT, CAIC, SUNGROW, Baidu Apollo, Zhuzhou CRRC Times, UESTC, VDA QMC, McKinsey and Accenture.
As a representative of domestic chip manufacturers, Wang Shengyang of NOVOSENSE shared the company's core concepts and practical experience in supporting the development of the automobile industry at the meeting: Take quality as the priority, application as the principle, supply chain as the cornerstone, and service as the key to win. "NOVOSENSE needs to strengthen itself to better serve the Tier 1 customers and the automotive industry." Said Wang.
NOVOSENSE focuses on the development of analog and mixed signal chain chips. After nearly ten years of development, the company has a rich technical reserve in three product lines covering signal sensing, system interconnection and driver respectively, which can provide more than 1,100 chip models. At present, the chip products of NOVOSENSE are widely used in OBC/DCDC, main motor driver, vehicle domain control, intelligent cabin, vehicle thermal management, vehicle lighting, fuel vehicle powertrain and other system applications in mainstream auto factories, including isolated gate driver, non-isolated high-side and low-side driver, isolated voltage and current sampling, vehicle motor driver, vehicle lighting driver, vehicle power supply, vehicle communication interface, vehicle power path protection, current sensor, magnetic angle sensor and pressure sensor. The research, development and production of the company's automobile-qualified chips are strictly in accordance with the automobile-qualified reliability standards. Each chip needs to undergo a three-temperature test to meet the AEC-Q100 and other reliability standards, so as to ensure the high quality and reliability of products.
In recent years, the global semiconductor market growth has slowed. Although the demand for traditional electronic products is shrinking, structural opportunities are emerging, with significant growth in application areas such as new energy and automotive electronics. More than 800 million chips were delivered by NOVOSENSE in the first half of 2022. In the second half of 2022, Suzhou NAXIWEI Semiconductor Co., Ltd., the wholly-owned subsidiary of NOVOSENSE will be put into production successively to undertake part of the packaging and testing business of NOVOSENSE, which will further enhance the company's ability to serve the automotive industry.
At the Supply Chain Leaders Exhibition, NOVOSENSE exhibited its automotive electronic solutions for new energy vehicles such as DCDC/ OBC/PDU/ thermal management, battery management system, inverter/powertrain, automotive lighting, body/vehicle (domain) controller, etc.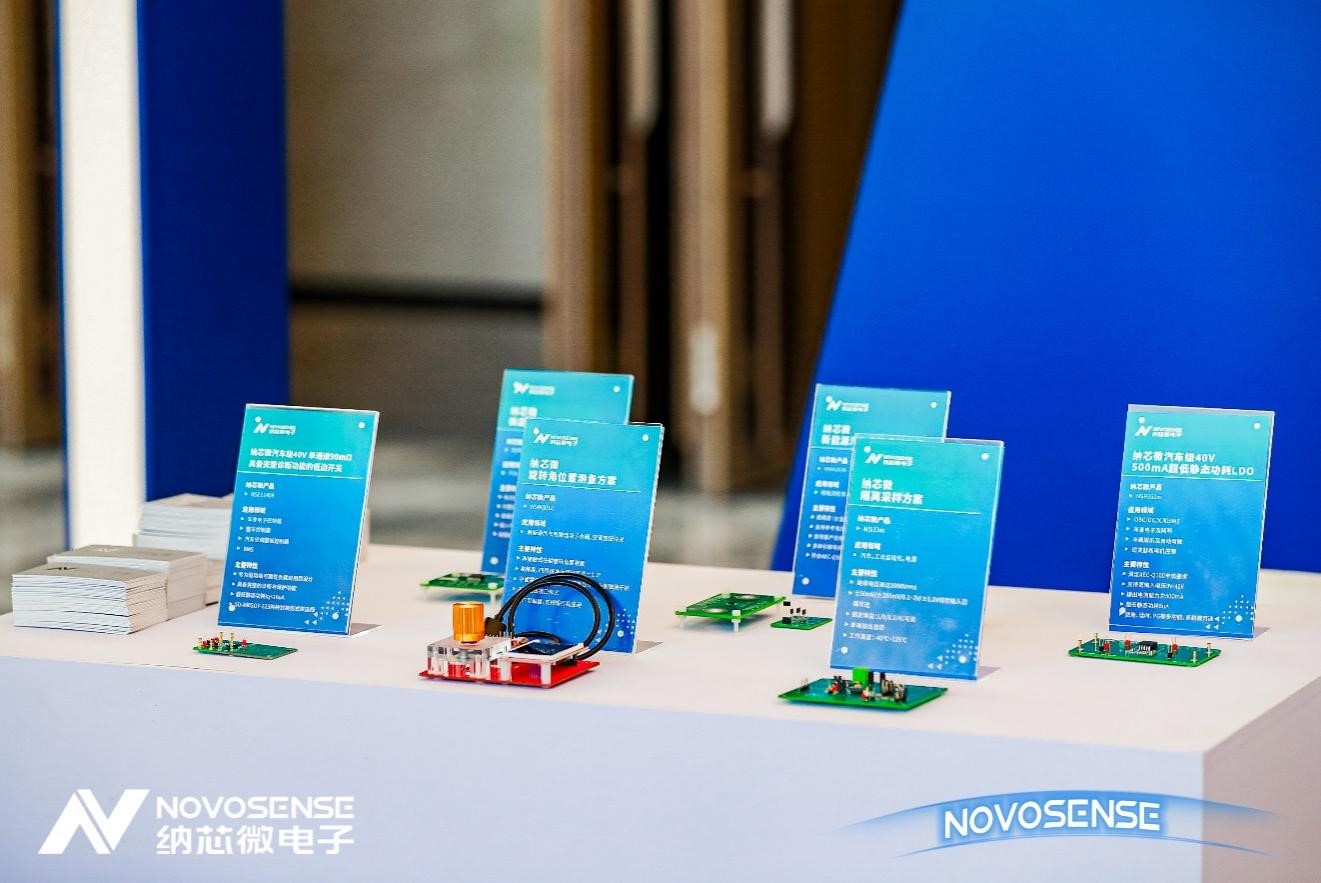 NOVOSENSE Automotive electronic solutions on display at the Supply Chain Leading Enterprises Exhibition

About China EV 100
Aiming to promote the development of electric vehicles, break the industry, discipline, ownership and sectoral limitations, and build a development forum to promote multi-field integration and collaborative innovation through research and exchange, China EV 100 is positioned as a non-official and non-profit policy and academic research institution, and a national third-party think tank in the field of electric vehicles. It mainly conducts research on major topics related to the development of the electric vehicle industry, and holds various symposiums and annual forums.